All travel protection
is not the same.
TripInsure Plus
Per-trip travel protection designed for the way you travel.
TripInsure Plus is the perfect complement to your annual Emergency Assistance Plus® (EA+®) membership.
TripInsure Plus was designed for EA+ members specifically. Your EA+ services do not overlap with the travel protection benefits you get with TripInsure Plus, so you don't pay for duplicate services.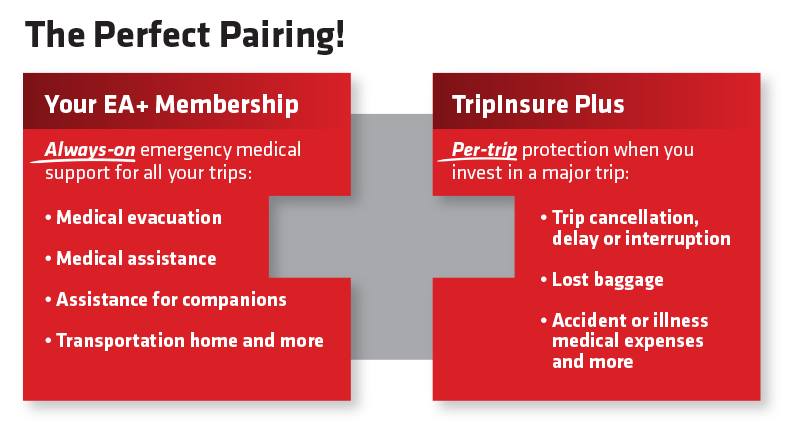 Bring your EA+ card, download your TripInsure Plus plan materials and enjoy the feeling of traveling with confidence.
Protect your investment with TripInsure Plus.
Unforeseen circumstances are a hassle and can quickly result in the loss of thousands of dollars if a trip is disrupted, delayed or canceled.

Trip Arrangement Protection
Belongings Protection
Medical Protection
TripInsure Plus protects your travel investment (including non-refundable airfare, non-refundable deposits and even event tickets) if you need to cancel a trip for a covered reason, such as needing to tend to a sick family member or attend their funeral, or your sickness, injury or job loss.
If purchased during the Time Sensitive Provision, the TripInsure Plus Premium plan includes a pre-existing condition waiver, as well as optional Cancel for Any Reason coverage.

For more information on what's covered, please review the plan documents.
TripInsure Plus offers two travel protection plans, so you can choose the proper level of coverage for your trip.