All travel protection
is not the same.
TripInsure Plus
Per-trip travel protection designed for the way you travel.
TripInsure Plus is the perfect complement to your annual Emergency Assistance Plus® (EA+®) membership.
Available only to EA+ members, TripInsure Plus is designed to work alongside your EA+ protection. Note that many of your EA+ services, such as medical evacuation and transportation home, do not overlap with your TripInsure Plus benefits.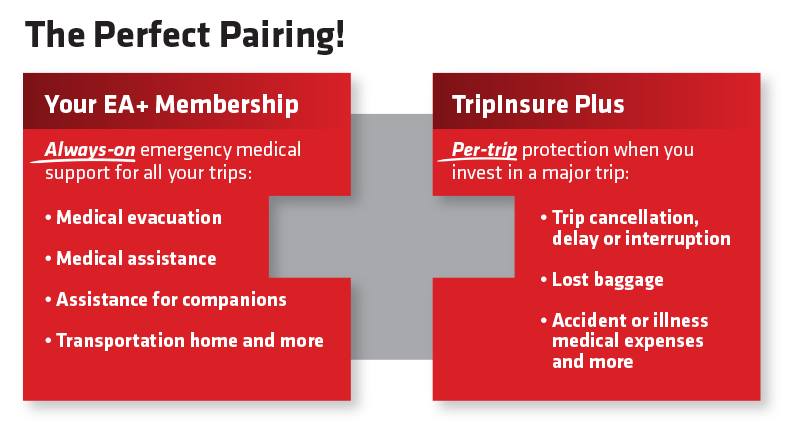 Bring your EA+ card, download your TripInsure Plus plan materials and enjoy the feeling of traveling with confidence.

*The quote will be for TripInsure Plus, which consists of both insurance benefits and non-insurance services. TripInsure Plus protection plan is only available to EA+ members, and has been customized to enhance your EA+ membership.
Protect your investment with TripInsure Plus.
If left unprotected, trip disruptions or cancellations can be costly. Get a quote and find the best coverage option for your next trip in minutes by providing just a few simple details.

Trip Arrangement Protection
Belongings Protection
Medical Protection
TripInsure Plus protects your insured travel investments (including non-refundable airfare, deposits and even event tickets) if you need to cancel a trip for a covered reason, such as needing to tend to a sick family member, or your sickness, injury or job loss.
If purchased during the Time Sensitive Period, the TripInsure Plus Premium plan includes a pre-existing condition exclusion, as well as optional Cancel for Any Reason** coverage.

For more information on what's covered, please review the plan documents.
TripInsure Plus offers two travel protection plans, so you can choose the proper level of coverage for your trip.
**Additional terms and conditions apply. Optional CFAR comes at an additional cost and is not available to residents of NY.